Goal:
17 - Amaçlar için Ortaklıklar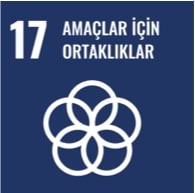 Description
Amaçlar için Ortaklıklar Uygulama araçlarını güçlendirmek ve sürdürülebilir kalkınma için küresel ortaklığı canlandırmak. Hedefler, tüm hedefleri başarmak üzere ulusal planları desteklemek suretiyle Kuzey-Güney ve Güney-Güney işbirliğini artırma amacını güdüyor. Uluslararası ticaretin geliştirilmesi ve gelişmekte olan ülkelerin ihracatını artırmalarına destek verilmesi, adil ve açık, herkesin yararına olan, evrensel kurallara dayalı ve hakkaniyetli bir ticaret sistemini oluşturmanın unsurlarıdır.
Publication Search Results
Sağlık Bilimlerinde Araştırma ve Değerlendirmeler
2021-02-01T00:00:00Z, Kurnaz, Büşra, Akbaş, Merve, AKBAŞ, MERVE
2019 yılının sonlarında Çin'de saptanan ve kısa süre de ülke içerisinde yayılım gösteren korona virüsünün, sars virüsü ile benzerlik gösterdiği açıklanmıştır. Çin'den sonra dünyadaki diğer ülkelere de yayılan virüs, pandemi ilan edilmesine sebep olmuştur. Sağlık hizmetleri başta olmak üzere, ekonomi ve eğitim sistemlerini de etkilemiştir. Ülkelerin ekonomik büyümeleri durmuş negatif yönlü ilerlemeler meydana gelmeye başlamıştır. Sağlık kurumlarında doluluklar yaşanmış, personel ve tıbbi ekipman yetersizlikleriyle karşı karşıya kalınmıştır. Okulları kapatma kararı alınan ülkelerde, uzaktan eğitim yöntemine başvurulmuştur. Bu çalışmada, Türkiye, Almanya ve İran'ın mevcut sağlık sistemleri, gelişmişlik düzeyleri ve eğitim konusundaki durumları incelenecek ve pandemi döneminde bu alanlarda aldığı önlemler değerlendirilecektir. Güncel veriler incelendiğinde, üç ülkenin de 82 milyon civarında nüfusunun olduğu bilinmektedir. Ancak sağlık sistemleri, yaşlı nüfus oranındaki farklılıklar, sağlık harcamalarına ayrılan pay, dünya ekonomisindeki yeri ve eğitim konusundaki farklılıkları alınan pek çok önlemi etkilemektedir. Ülkeler değerlendirildiğinde, pandemi döneminde temel sağlık davranışlarının kazandırılması ve bu yönde politika geliştirilmesi konusunda yetersiz kalındığı sonucuna ulaşılmıştır. Dolayısıyla bu çalışma, yetersiz kalınan konular göz önünde bulundurularak yönetsel açıdan değerlendirilmiştir.
Synthesis and Comprehensive in Vivo Activity Profiling of Olean-12-en-28-ol, 3β-Pentacosanoate in Experimental Autoimmune Encephalomyelitis: A Natural Remyelinating and Anti-Inflammatory Agent
2023-01-01, Şenol H., Özgün Acar Ö., Dağ A., Eken A., Güner H., Aykut Z. G., Topçu G., Şen A., ŞENOL, HALIL, DAĞ, AYDAN, TOPÇU, GÜLAÇTI
Palliative Care in High and Low Resource Countries
2021-01-01T00:00:00Z, KEBUDİ, Rejin, ÇAKIR, FATMA BETÜL, Silbermann, Michael, ÇAKIR, FATMA BETÜL
Palliative Care (PC) is defined by the World Health Organization (WHO) as a support provided by multiple disciplines in order to improve the quality of life of both patients and their caregivers, throughout the disease course, from diagnosis to end- of-life. PC aims to prevent and treat symptoms and side effects of the disease and its treatment. PC is well developed in most high-income countries; however in most low-income settings, where approximately 80% of patients with cancer requiring PC care for advanced disease live, PC services are still uncommon. Health indicators monitoring global PC development are policy, education, use of medicines, service provision and professional activity. Globally, PC development may be categorized as Group 1 (no known hospice-PC activity), Group 2 (capacity-building activity), Groups 3a Isolated PC provided, 3b Generalized PC provided, 4a hospice-PC services at a stage of integration into regular service provision, and 4b hospice-PC services at a stage of advanced integration into regular service provision. Spirituality is an essential element of patient-centered PC. The use of Complementary and Traditional Medicine (CTM) in Middle Eastern countries is widespread. There are wide discrepancies in cancer care and PC in many regions of the world. The Individualized Care Planning and Coordination (ICPC) Model is designed to facilitate the advance care planning with continuity of all the measures like symptom control or emotional, social and spiritual care of both the patient and the family during the disease steps like relapse or end of life.

Gene Hunting Approaches through the Combination of Linkage Analysis with Whole-Exome Sequencing in Mendelian Diseases: From Darwin to the Present Day
2021-07-08T00:00:00Z, Susgun, Seda, Kasan, Koray, Yucesan, Emrah, SÜSGÜN, SEDA, YÜCESAN, EMRAH
Background: In the context of medical genetics, gene hunting is the process of identifying and functionally characterizing genes or genetic variations that contribute to disease phenotypes. In this review, we would like to summarize gene hunting process in terms of historical aspects from Darwin to now. For this purpose, different approaches and recent developments will be detailed. Summary: Linkage analysis and association studies are the most common methods in use for explaining the genetic background of hereditary diseases and disorders. Although linkage analysis is a relatively old approach, it is still a powerful method to detect disease-causing rare variants using family-based data, particularly for consanguineous marriages. As is known that, consanguineous marriages or endogamy poses a social problem in developing countries, however, this same condition also provides a unique opportunity for scientists to identify and characterize pathogenic variants. The rapid advancements in sequencing technologies and their parallel implementation together with linkage analyses now allow us to identify the candidate variants related to diseases in a relatively short time. Furthermore, we can now go one step further and functionally characterize the causative variant through in vitro and in vivo studies and unveil the variant-phenotype relationships on a molecular level more robustly. Key Messages: Herein, we suggest that the combined analysis of linkage and exome analysis is a powerful and precise tool to diagnose clinically rare and recessively inherited conditions.
Kültürel Mirasın Taşıyıcıları Bağlamında Kitap Dışı Materyaller: Bezmiâlem Vakıf Üniversitesi Koleksiyonu Örneği
2022-05-28T00:00:00Z, Yalçınkaya, Özlem, YALÇINKAYA, ÖZLEM
Acute kidney injury in Turkey: epidemiological characteristics, etiology, clinical course, and prognosis
2022-10-01T00:00:00Z, GÜRSU, Meltem, Yegenaga, Itir, TUĞLULAR, ZÜBEYDE SERHAN, DURSUN, BELDA, GÖKÇAY BEK, SİBEL, Bardak, Simge, ONAN, ENGİN, Demir, Serap, DERİCİ, ÜLVER, DOĞUKAN, AYHAN, Sevinc, Mustafa, KOÇYİĞİT, İSMAİL, Altun, Eda, Haras, Ali Burak, ALTIPARMAK, Mehmet Rıza, TONBUL, HALİL ZEKİ, GÜRSU, MELTEM
Background This study aimed to evaluate the etiologies, comorbidities, and outcomes of acute kidney injury (AKI) in Turkey and determine any potential differences among different geographical parts of the country. Methods This prospective observational study was conducted by the Acute Kidney Injury Working Group of the Turkish Society of Nephrology. Demographical and clinical data of patients with AKI at the time of diagnosis and at the 1(st) week and 1(st), 3(rd), and 6(th) months of diagnosis were evaluated to determine patient and renal survival and factors associated with patient prognosis. Results A total of 776 patients were included (54.7% male, median age: 67 years). Prerenal etiologies, including dehydration, heart failure, and sepsis, were more frequent than other etiologies. 58.9% of the patients had at least one renal etiology, with nephrotoxic agent exposure as the most common etiology. The etiologic factors were mostly similar throughout the country. 33.6% of the patients needed kidney replacement therapy. At the 6(th) month of diagnosis, 29.5% of the patients had complete recovery; 34.1% had partial recovery; 9.5% developed end-stage kidney disease; and 24.1% died. The mortality rate was higher in the patients from the Eastern Anatolian region; those admitted to the intensive care unit; those with prerenal, renal, and postrenal etiologies together, stage 3 AKI, sepsis, cirrhosis, heart failure, and malignancy; those who need kidney replacement therapy; and those without chronic kidney disease than in the other patients. Conclusion Physicians managing patients with AKI should be alert against dehydration, heart failure, sepsis, and nephrotoxic agent exposure. Understanding the characteristics and outcomes of patients with AKI in their countries would help prevent AKI and improve treatment strategies.