Goal:
16 - Barış, Adalet ve Güçlü Kurumlar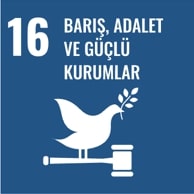 Description
Barış, Adalet ve Güçlü Kurumlar Sürdürülebilir kalkınma için barışçıl ve kapsayıcı toplumlar tesis etmek, herkes için adalete erişimi sağlamak ve her düzeyde etkili, hesap verebilir ve kapsayıcı kurumlar oluşturmak. Barış, istikrar, insan hakları ve hukukun üstünlüğüne dayalı etkin yönetim olmadan, sürdürülebilir kalkınma olmasını bekleyemeyiz. Gittikçe artan ölçüde bölünmüş bir dünyada yaşıyoruz. Bazı bölgelerde barış, güvenlik ve refah sürekli iken, diğer bazı bölgelerde ise bitmek bilmeyen çatışma ve şiddet sarmalı var. Ancak bu, hiçbir şekilde kaçınılmaz sonuç değildir ve mutlaka çözümlenmelidir.
Publication Search Results
Now showing
1 - 10 of 299
Syrian refugees- experiences with mental health services in Turkey: -I felt lonely because I wasn-t able to speak to anyone-
2019-10-01T00:00:00Z, DOĞAN, NAREG, Dikec, Gul, Uygun, Ersin, DOĞAN, NAREG
Purpose This study examined Syrian refugee adults- experiences with mental health services due to a mental complaint. Design and Methods This qualitative study used a phenomenological design. The data were collected in semi-structured focus group interviews between June and August 2018. A total of 24 individuals participated in the study. The data were analyzed using Colaizzi-s method of phenomenological interpretation. Findings Seven themes were identified by thematic analysis of the interviews: (a) difficulties making appointments, (b) difficulties obtaining medicine, (c) personal rights, (d) lack of information, (e) language barrier, (f) discrimination, and (g) confidence versus anxiety. Practice Implications Nurses should be aware of the barriers experienced by refugees that affect the quality and accessibility of psychiatric services.

Non-pharmaceutical interventions in Turkey and worldwide during COVID-19 pandemic
2021-12-01T00:00:00Z, İlhan, Mustafa Necmi, Tüzün, Hakan, Kılıç, Rahmi, Yıldırım, Nuran, YILDIRIM, NURAN
Nonpharmaceutical interventions (NPIs) are actions apart from getting vaccinated and medications, in order to promote deceleration of the spread of illness among people and communities during pandemic. In this article, we aim to examine NPIs applied in Turkey and worldwide due to the COVID-19 pandemic. Some of the NPIs such as isolation, quarantine, and contact tracing were maintained with updates of the Ministry of Health guidelines in Turkey. Some NPIs including travel and partial or full curfew mobilization restrictions were set in accordance with the various periods by the number of cases. Periods of restrictions at autumn 2021 to summer 2022 are national partial curfews, national extended curfews, local decision-making phase, revised local decision-making phase, partial lockdown, full lockdown and gradual normalization. Mitigation and suppression have been implemented in Turkey with restrictions of varying severity throughout the course of the epidemic. It is seen that the restrictions implemented in Turkey contributed to the flattening of the epidemic curve. Even some countries mainly applied the suppression method, and others applied the mitigation method, in general, it is seen that similar methods were applied with different weights. Examples of different countries demonstrated that NPIs are effective for flattening epidemic curve. NPI have been the main instrument for a year and a half from the beginning of the epidemic to mid-2021 in Turkey as well as worldwide.
Health and health care needs of Afghan and Uyghur refugees living in the Zeytinburnu district of Istanbul
2016-06-25, MÜCAZ, MELTEM, TORUN, PERİHAN, SANDIKLI, BÜŞRA, ACAR, CEYDA, MÜCAZ, MELTEM, TORUN, PERİHAN, SANDIKLI, BÜŞRA

Risk Factors for Cervical Cancer: Results from a Hospital-Based Case-Control Study
2011-01-01T00:00:00Z, Reis, Nesrin, Beji, Nezihe K., KILIÇ, Dilek
The aim of this study was to investigate risk factors for cervical cancer in Turkish women. In a hospital-based case-control study in Istanbul, 209 patients with histologically confirmed cervical cancer were compared with 1050 controls, who were admitted to the different departments of the same hospital. Odds ratios (OR) and 95% confidence intervals (Cl) were obtained from multivariate logistic regression analysis, fitted by the method of maximum likelihood.
Hydrosonographic assessment of the effects of 2 different suturing techniques on healing of the uterine scar after cesarean delivery
2014-06-01, Sevket, OSMAN, Ates, SEDA, MOLLA, Taner, OZKAL, Fulya, Uysal, Omer, Dansuk, RAMAZAN, ŞEVKET, OSMAN, ATEŞ, SEDA, UYSAL, ÖMER, DANSUK, RAMAZAN
Objective: To compare the effects of 2 suturing techniques (single versus double layer) on healing of the uterine scar after a cesarean delivery. Methods: In the present randomized, prospective study, 36 women with a term pregnancy who had an elective cesarean delivery were randomly assigned to closure of the uterine incision with a single-layer locked suture or with a double-layer locked/unlocked suture. Six months after the operation, the integrity of the cesarean scar at the uterine incision site was assessed by hydrosonography. The healing ratio and the thickness of the residual myometrium covering the defect were calculated as markers of uterine scar healing. Results: There were no significant differences between the groups in terms of estimated blood loss, operation time, or additional hemostatic suture. However, the mean thickness of the residual myometrium covering the defect was 9.95 +/- 1.94 mm after a double-layer closure and 7.53 +/- 2.54 mm after a single-layer closure (P = 0.005). The mean healing ratio was significantly higher after a double-layer closure (0.83 +/- 0.10) than after a single-layer closure (0.67 +/- 0.15; P = 0.004). Conclusion: A double-layer locked/unlocked closure of the uterine incision at cesarean delivery decreases the risk of poor uterine scar healing. (C) 2014 International Federation of Gynecology and Obstetrics. Published by Elsevier Ireland Ltd. All rights reserved.
Predictive role of neutrophil-to-lymphocyte and platelet-to-lymphocyte ratios for diagnosis of acute appendicitis during pregnancy
2015-11-01T00:00:00Z, Yazar, Fatih Mehmet, Bakacak, Murat, Emre, Arif, Urfalioglu, Aykut, Serin, Salih, Cengiz, Emrah, Bulbuloglu, ERTAN, BÜLBÜLOĞLU, ERTAN
Acute appendicitis (AA) is not uncommon during pregnancy but can be difficult to diagnose. This study evaluated the neutrophil-to-lymphocyte ratio (NLR) and platelet-to-lymphocyte ratio (PLR) in addition to conventional diagnostic indicators of the disease to diagnose AA during pregnancy. Age, gestational age, white blood cell (WBC) count, Alvarado scores, C-reactive protein (CRP), lymphocyte count, NLR and PLR were compared among 28 pregnant women who underwent surgery for AA, 35 pregnant women wrongly suspected as having AA, 29 healthy pregnant women, and 30 nonpregnant healthy women. Mean WBC counts and CRP levels were higher in women with proven AA than in those of control groups (all p < 0.05). Among all the groups, the median NLR and PLR were significantly different in women with proven AA (all p < 0.05). Receiver operating characteristic analysis was used to determine cut-off values for WBC count, CRP, lymphocyte count, NLR and PLR, and multiple logistic regression analysis showed that NLR and PLR used with routine methods could diagnose AA with 90.5% accuracy. Used in addition to routine diagnostic methods, NLR and PLR increased the accuracy of the diagnosis of AA in pregnant women. Copyright (C) 2015, Kaohsiung Medical University. Published by Elsevier Taiwan LLC. All rights reserved.