Goal:
17 - Amaçlar için Ortaklıklar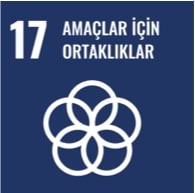 Description
Amaçlar için Ortaklıklar Uygulama araçlarını güçlendirmek ve sürdürülebilir kalkınma için küresel ortaklığı canlandırmak. Hedefler, tüm hedefleri başarmak üzere ulusal planları desteklemek suretiyle Kuzey-Güney ve Güney-Güney işbirliğini artırma amacını güdüyor. Uluslararası ticaretin geliştirilmesi ve gelişmekte olan ülkelerin ihracatını artırmalarına destek verilmesi, adil ve açık, herkesin yararına olan, evrensel kurallara dayalı ve hakkaniyetli bir ticaret sistemini oluşturmanın unsurlarıdır.
Publication Search Results

Gene Hunting Approaches through the Combination of Linkage Analysis with Whole-Exome Sequencing in Mendelian Diseases: From Darwin to the Present Day
2021-07-08T00:00:00Z, Susgun, Seda, Kasan, Koray, Yucesan, Emrah, SÜSGÜN, SEDA, YÜCESAN, EMRAH
Background: In the context of medical genetics, gene hunting is the process of identifying and functionally characterizing genes or genetic variations that contribute to disease phenotypes. In this review, we would like to summarize gene hunting process in terms of historical aspects from Darwin to now. For this purpose, different approaches and recent developments will be detailed. Summary: Linkage analysis and association studies are the most common methods in use for explaining the genetic background of hereditary diseases and disorders. Although linkage analysis is a relatively old approach, it is still a powerful method to detect disease-causing rare variants using family-based data, particularly for consanguineous marriages. As is known that, consanguineous marriages or endogamy poses a social problem in developing countries, however, this same condition also provides a unique opportunity for scientists to identify and characterize pathogenic variants. The rapid advancements in sequencing technologies and their parallel implementation together with linkage analyses now allow us to identify the candidate variants related to diseases in a relatively short time. Furthermore, we can now go one step further and functionally characterize the causative variant through in vitro and in vivo studies and unveil the variant-phenotype relationships on a molecular level more robustly. Key Messages: Herein, we suggest that the combined analysis of linkage and exome analysis is a powerful and precise tool to diagnose clinically rare and recessively inherited conditions.

Global coverage of health information systems for kidney disease: availability, challenges, and opportunities for development
2018-02-01, See , Emily J., Alrukhaimi , Mona, Ashuntantang, Gloria E., Bello, Aminu K., Bellorin-Font, Ezequiel, Gharbi, Mohammed Benghanem, Braam, Branko, Feehally, John, Harris, David C., Jha, Vivekanand, Jindal, Kailash, Kalantar-Zadeh , Kamyar, Kazancioglu, RÜMEYZA, Levin, Adeera, Lunney, Meaghan, Okpechi, Ikechi G., Olanrewaju , Timothy Olusegun, Osman, Mohamed A., Perl, Jeffrey, Qarni, Bilal, Rashid, Harun Ur, Rateb, Ahmed, Rondeau, Eric, Samimi, Arian, Sikosana, Majid L. N., Sola, Laura, Tchokhonelidze, Irma, Wiebe, Natasha, Yang, Chih-Wei, Ye, Feng, Zemchenkov, Alexander, Zhao, Ming-hui, Johnson, David W., KAZANCIOĞLU, RÜMEYZA
Development and planning of health care services requires robust health information systems to define the burden of disease, inform policy development, and identify opportunities to improve service provision. The global coverage of kidney disease health information systems has not been well reported, despite their potential to enhance care. As part of the Global Kidney Health Atlas, a cross-sectional survey conducted by the International Society of Nephrology, data were collected from 117 United Nations member states on the coverage and scope of kidney disease health information systems and surveillance practices. Dialysis and transplant registries were more common in high-income countries. Few countries reported having nondialysis chronic kidney disease and acute kidney injury registries. Although 62% of countries overall could estimate their prevalence of chronic kidney disease, less than 24% of low-income countries had access to the same data. Almost all countries offered chronic kidney disease testing to patients with diabetes and hypertension, but few to high-risk ethnic groups. Two-thirds of countries were unable to determine their burden of acute kidney injury. Given the substantial heterogeneity in the availability of health information systems, especially in low-income countries and across nondialysis chronic kidney disease and acute kidney injury, a global framework for prioritizing development of these systems in areas of greatest need is warranted.

Diagnosis, treatment and prevention of infective endocarditis: Turkish consensus report-2019
2020-03-01T00:00:00Z, Yavuz, Serap Simsek, AKAR, AHMET RÜÇHAN, Aydogdu, Sinan, Deniz, Denef Berzeg, DEMİR, HAKAN, HAZIROLAN, TUNCAY, Ozatik, Mehmet Ali, Ozer, Necla, Sargin, Murat, Topcuoglu, Emine Nursen, Turhan, Nesrin, Yilmaz, Mehmet Birhan, Azap, Ozlem, Basaran, Seniha, Cag, Yasemin, Cagatay, Atahan, Cinar, Gule, Kaya, Sibel Dogan, Hizmali, Lokman, Isik, Mehmet Emirhan, Kilicaslan, Nirgul, Menekse, Sirin, Meric-Koc, Meliha, Ozturk, Serpil, Sensoy, Ayfer, Tezer-Tekce, Yasemin, Tukenmez-Tigen, Elif, Uygun-Kizmaz, Yesim, Velioglu-Ocalmaz, Mutlu Seyda, Yesilkaya, Aysegul, Yilmaz, Emel, Yilmaz, Neziha, Yilmaz-Karadag, Fatma, MERİÇ KOÇ, MELİHA
Infective endocarditis (IE) is a rare but still important as an infectious disease due to high rate of morbidity and substantial mortality. Although IE is not a notifiable disease in Turkey, and an incidence study has not been performed, the incidence may be higher than that in the developed countries due to frequent predisposing cardiac conditions and higher rates of nosocomial bacteremia, which may lead to IE in risk groups. IE generally affects the elderly in developed countries but it is frequently encountered among young individuals in Turkey. In order to reduce mortality and morbidity, it is critical to diagnose IE, to determine the causative agent, and to start treatment rapidly. Most patients cannot be diagnosed at the first visit, about half can be diagnosed after 3 months, and the disease often goes unnoticed. In patients diagnosed with IE, the rate of the identification of a causative organism is significantly lower in Turkey than that in developed countries. Some important microbiological diagnostic tests are not performed in most centers and several antimicrobials that are recommended as the first option for the treatment particularly antistaphylococcal penicillins, are unavailable in Turkey. These problems necessitate reviewing the epidemiological, laboratory, and clinical characteristics of IE in our country, as well as the current information about its diagnosis, treatment, and prevention together with local data. The diagnosis and treatment processes of IE should be standardized at every stage so that the management can be conducted in a setting in which physicians of various specialties are involved and is consistent with the current recommendations. The Study Group for Infective Endocarditis and Other Cardiovascular Infections of the Turkish Society of Clinical Microbiology and Infectious Diseases called for the collaboration of the relevant specialist organizations to establish a consensus report on the diagnosis, treatment, and prevention of IE in the context of current information and local data in Turkey.
Global capacity for clinical research in nephrology: a survey by the International Society of Nephrology
2018-02-01, Okpechi, Ikechi G., Alrukhaimi, Mona, Ashuntantang, Gloria E., Bellorin-Font, Ezequiel, Gharbi, Mohammed Benghanem, Braam, Branko, Feehally, John, Harris, David C., Jha, Vivekanand, Jindal, Kailash, Johnson, David W., Kalantar-Zadeh, Kamyar, Kazancioglu, RÜMEYZA, Levin, Adeera, Lunney, Meaghan, Olanrewaju, Timothy Olusegun, Perkovic, Vlado, Perl, Jeffrey, Rashid, Harun Ur, Rondeau, Eric, Salako, Babatunde lawal, Samimi, Arian, Sola, Laura, Tchokhonelidze, Irma, Wiebe, Natasha, Yang, Chih-Wei, Ye, Feng, Zemchenkov, Alexander, Zhao, Ming-hui, Bello, Aminu K., KAZANCIOĞLU, RÜMEYZA
Due to the worldwide rising prevalence of chronic kidney disease (CKD), there is a need to develop strategies through well-designed clinical studies to guide decision making and improve delivery of care to CKD patients. A cross-sectional survey was conducted based on the International Society of Nephrology Global Kidney Health Atlas data. For this study, the survey assessed the capacity of various countries and world regions in participating in and conducting kidney research. Availability of national funding for clinical trials was low (27%, n = 31), with the lowest figures obtained from Africa (7%, n = 2) and South Asia (0%), whereas high-income countries in North America and Europe had the highest participation in clinical trials. Overall, formal training to conduct clinical trials was inadequate for physicians (46%, n = 53) and even lower for nonphysicians, research assistants, and associates in clinical trials (34%, n = 39). There was also diminished availability of workforce and funding to conduct observational cohort studies in nephrology, and participation in highly specialized transplant trials was low in many regions. Overall, the availability of infrastructure (bio-banking and facilities for storage of clinical trial medications) was low, and it was lowest in low-income and lower-middle-income countries. Ethics approval for study conduct was mandatory in 91% (n = 106) of countries and regions, and 62% (n = 66) were reported to have institutional committees. Challenges with obtaining timely approval for a study were reported in 53% (n = 61) of regions but the challenges were similar across these regions. A potential limitation is the possibility of over-reporting or under-reporting due to social desirability bias. This study highlights some of the major challenges for participating in and conducting kidney research and offers suggestions for improving global kidney research.

The Relationship between Range of Motion and Function of Upper Extremity in Obstetric Brachial Plexus Palsy Patients Treated with Tendon Transfer
2017-12-01, Aydın, Atakan, HOŞBAY, ZEYNEP, TANRIVERDİ, MÜBERRA, Tarakçı, Ela, Razak ÖZDİNÇLER, Arzu, HOŞBAY, ZEYNEP, TANRIVERDİ, MÜBERRA
Obstetric brachial plexus palsy (OBPP) refers to upper limb paralysis secondary to a sustained traction or compression injury to the brachial plexus during birth. The reported incidence in developed countries is 2 per 1000 live births. The assessment and planning of appropriate treatment is important in the early stages of OBPP. The aim of our study was to examine the relationship between the range of motion and upper extremity function of the shoulder in patients with OBPP who were treated by tendon transfer. This study included 48 patients who had shoulder tendon transfer at least 6 months ago in Istanbul Medical Faculty, Department of Plastic and Reconstructive Surgery, Department of Surgery of the Hand. Range of motion measurements were performed using a universal goniometer and the modified mallet classification was used to categorize global shoulder function. Pediatric evaluation of disability inventory (PEDI) and Canadian occupational performance measure (COPM) were used to evaluate functional ability, activity and participation. When examining relationships between range of motion and functional scores, there was a statistically significant relationship between COPMP score and external rotation, and no relationship was found between other motion functional scores. The study demonstrated that, the use of the pattern of development and motivation of patients to participate is also important among range of motion and muscle strength for upper extremity function.
Increasing access to integrated ESKD care as part of universal health coverage
2019-04-01, Harris, David C. H., DAVIES, Simon J., Finkelstein, Fredric O., JHA, Vivekanand, DONNER, Jo-Ann, ABRAHAM, Georgi, Bello, Aminu K., CASKEY, Fergus J., GARCIA GARCIA, Guillermo, HARDEN, Paul, KAZANCIOĞLU, RÜMEYZA TURAN, Hemmelgarn, Brenda, JOHNSON, David W., LEVIN, Nathan W., Luyckx, Valerie A., MARTIN, Dominique E., McCulloch, Mignon I., MOOSA, Mohammed Rafique, O'Connell, Philip J., Okpechi, Ikechi G., PECOITS FILHO, Roberto, SHAH, Kamal D., SOLA, Laura, Swanepoel, Charles, Tonelli, Marcello, TWAHIR, Ahmed, VAN BIESEN, Wim, VARGHESE, Cherian, Yang, Chih-Wei, ZUNIGA, Carlos, ABU ALFA, Ali K., ALJUBORI, Harith M., ALRUKHAIMI, Mona N., ANDREOLI, Sharon P., ASHUNTANTANG, Gloria, Bellorin-Font, Ezequiel, BERNIEH, Bassam, IBHAIS, Fuad M., BLAKE, Peter G., BROWN, Mark, BROWN, Edwina, BUNNAG, Sakarn, CHAN, Tak Mao, CHEN, Yuqing, CLAURE-DEL GRANADO, Rolando, CLAUS, Stefaan, COLLINS, Allan, COPPO, Rosanna, COUCHOUD, Cecile, CUETO-MANZANO, Alfonso, CULLIS, Brett, DOUTHAT, Walter, DREYER, Gavin, EIAM-ONG, Somchai, EKE, Felicia U., Feehally, John, GHNAIMAT, Mohammad A., LEONG, Bak, HASSAN, Mohamed H., HOU, Fan Fan, JAGER, Kitty, KALANTAR-ZADEH, Kamyar, Levin, Adeera, LIEW, Adrian, McKnight, Marla, TADESSE, Yewondwassesn, Morton, Rachael L., Muller, Elmi, Murtagh, Fliss E. M., Naicker, Saraladevi, Nangaku, Masaomi, NIANG, Abdou, OBRADOR, Gregorio T., OSSAREH, Shahrzad, Perl, Jeffrey, RAHMAN, Muhibur, RASHID, Harun Ur, RICHARDS, Marie, RONDEAU, Eric, SAHAY, Manisha, SALEH, Abdulkarim, SCHNEDITZ, Daniel, TCHOKHONELIDZE, Irma, TESAR, Vladimir, Trask, Michele, TUNGSANGA, Kriang, VACHHARAJANI, Tushar, WALKER, Rachael C., WALKER, Robert, WERE, Anthony J. O., YAO, Qiang, YEATES, Karen, YU, Xueqing, ZAKHAROVA, Elena, ZEMCHENKOV, Alexander, Turan Kazancıoğlu, Rümeyza, Zhao, Ming-Hui, KAZANCIOĞLU, RÜMEYZA
The global nephrology community recognizes the need for a cohesive strategy to address the growing problem of end-stage kidney disease (ESKD). In March 2018, the International Society of Nephrology hosted a summit on integrated ESKD care, including 92 individuals from around the globe with diverse expertise and professional backgrounds. The attendees were from 41 countries, including 16 participants from 11 low- and lower-middle-income countries. The purpose was to develop a strategic plan to improve worldwide access to integrated ESKD care, by identifying and prioritizing key activities across 8 themes: (i) estimates of ESKD burden and treatment coverage, (ii) advocacy, (iii) education and training/workforce, (iv) financing/funding models, (v) ethics, (vi) dialysis, (vii) transplantation, and (viii) conservative care. Action plans with prioritized lists of goals, activities, and key deliverables, and an overarching performance framework were developed for each theme. Examples of these key deliverables include improved data availability, integration of core registry measures and analysis to inform development of health care policy; a framework for advocacy; improved and continued stakeholder engagement; improved workforce training; equitable, efficient, and cost-effective funding models; greater understanding and greater application of ethical principles in practice and policy; definition and application of standards for safe and sustainable dialysis treatment and a set of measurable quality parameters; and integration of dialysis, transplantation, and comprehensive conservative care as ESKD treatment options within the context of overall health priorities. Intended users of the action plans include clinicians, patients and their families, scientists, industry partners, government decision makers, and advocacy organizations. Implementation of this integrated and comprehensive plan is intended to improve quality and access to care and thereby reduce serious health-related suffering of adults and children affected by ESKD worldwide.