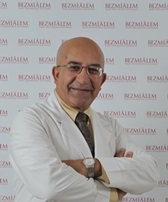 Search Results
COVID-19 Pandemic: Stress and Psychiatric Disorders

(

2021-02-01T00:00:00Z

)

KIRPINAR, İSMET

;

KIRPINAR, İSMET

The epidemic, which first started as viral pneumonia in Wuhan, China at the end of 2019 and is now known as Coronavirus disease-19 (COVID-19). rapidly spread to almost every part of the world and named a pandemic in March 2020. It is well known that psychiatric symptoms and syndromes, especially posttraumatic stress disorder, major depression, anxiety, and sleep disorders reach high prevalence values in natural or man-made disasters, Especially in infectious disease epidemics where mortality rates are high, patients, those who arc quarantined, and the whole society experience very intense mental stress and trauma. It is not easy to avoid psychological distress after facing highly fatal illnesses such as Ebola, severe acute respiratory syndrome (SARS), or COVID-19. When pandemics turn into a rapid and global disaster, the prevalence values of mental problems reach even higher levels. Combating mental disorders not only provides psychological well-being but also affects the course of the epidemic, as these disorders can delay efforts to fight epidemics.

Can we predict who will be more anxious and depressed in the COVID-19 ward?

(

2021-01-01T00:00:00Z

)

Sahan, Ebru

;

Unal, Shafiga Mursalova

;

KIRPINAR, İSMET

;

ŞAHAN, EBRU

;

KIRPINAR, İSMET

Objective: Hospitalized patients with COVID-19 are at high risk for anxiety and depression, but most studies about mental health during the pandemic included the general public, healthcare workers, and students. We aimed to explore the anxiety and depression levels, prevalence and predictors in patients hospitalized with COVID-19. Methods: In this cross-sectional, exploratory study, sociodemographic and clinical features of 281 patients with confirmed COVID-19 were explored. Patients underwent a comprehensive psychiatric assessment and the Hospital Anxiety and Depression Scale (HADS) was administered through a telephonic interview. Results: The mean age of the participants was 55.0 ± 14.9 years. One hundred forty-three (50.9%) patients were male, and 138 (49.1%) were female. Ninety-eight (34.9%) patients had significant levels of anxiety and 118 (42.0%) had significant levels of depression. Female gender, staying alone in a hospital room, early days of hospital stay, and any lifetime psychiatric disorder was associated with symptoms of anxiety. Being over 50 years of age, staying alone in a hospital room, and NSAID use before the week of hospital admission were associated with symptoms of depression. Anxiety and depression levels were lower when family members who tested positive for COVID-19 stayed in the same hospital room during treatment. Conclusion: Women, patients >50 years, patients who used NSAIDs before hospital admission, and those with lifetime psychiatric disorders may be at risk for anxiety and depressive symptoms in the COVID-19 ward. Allowing family members with COVID-19 to stay in the same hospital room may be associated with lower anxiety and depression levels.