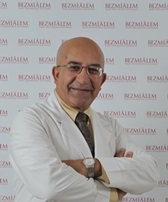 Search Results
Effects of Cognitive Behavioral Therapy, Existential Psychotherapy and Supportive Counselling on Facial Emotion Recognition Among Patients with Mild or Moderate Depression

(

2019-07-01

)

YILMAZ, ONUR

;

Kunduz, Merve

;

ÇOMBAŞ, MÜGE

;

ÖZTÜRK, AHMET

;

DEVECİ, ERDEM

;

KIRPINAR, İSMET

;

YILMAZ, ONUR

;

MIRÇIK, ALİ BARLAS

;

ÖZTÜRK, AHMET

;

DEVECİ, ERDEM

;

KIRPINAR, İSMET

Objective: This study compared the effects of cognitive behavioral therapy (CBT), existential psychotherapy (ExP) and supportive counseling (SUP) on facial emotion recognition among mildly and moderately depressed patients. Methods: 21 patients for CBT, and 20 each for ExP and SUP groups with 60 healthy controls were investigated. Eight consecutive weekly sessions and following two monthly boosters were performed. Prior to the sessions, all subjects received Sociodemographic Data Form, the Structured Clinical Interview for DSM-IV Axis I Disorders (SCID-1), and Facial Emotion Recognition Test (FERT). Patients received Hamilton Depression Rating Scale (HDRS) and FERT at the onset and after weekly and booster sessions. Results: Patients' ability to recognize surprised and neutral emotions were lower than controls. ExP group improved recognition of almost all emotions, CBT group improved only happy emotions and SUP group did not improve any emotions. HDRS scores declined in all patient groups, ExP and CBT groups had lower scores than SUP. Conclusion: MDD patients recognized surprised and neutral emotions lower than controls. ExP improved ability to recognize almost all emotions, CBT improved only happy emotions, SUP did not improve at all. ExP, CBT and SUP all led to a reduction in MDD. ExP and CBT had comparable effects and both were more helpful than SUP.

Investigation of facial emotion recognition, alexithymia, and levels of anxiety and depression in patients with somatic symptoms and related disorders

(

2016-04-29

)

ÖZTÜRK, AHMET

;

KILIÇ, Alperen

;

DEVECİ, ERDEM

;

KIRPINAR, İSMET

;

ÖZTÜRK, AHMET

;

DEVECİ, ERDEM

;

KIRPINAR, İSMET

Background: The concept of facial emotion recognition is well established in various neuropsychiatric disorders. Although emotional disturbances are strongly associated with somatoform disorders, there are a restricted number of studies that have investigated facial emotion recognition in somatoform disorders. Furthermore, there have been no studies that have regarded this issue using the new diagnostic criteria for somatoform disorders as somatic symptoms and related disorders (SSD). In this study, we aimed to compare the factors of facial emotion recognition between patients with SSD and age- and sex-matched healthy controls (HC) and to retest and investigate the factors of facial emotion recognition using the new criteria for SSD. Patients and methods: After applying the inclusion and exclusion criteria, 54 patients who were diagnosed with SSD according to the Diagnostic and Statistical Manual of Mental Disorders, Fifth Edition (DSM-5) criteria and 46 age- and sex-matched HC were selected to participate in the present study. Facial emotion recognition, alexithymia, and the status of anxiety and depression were compared between the groups. Results: Patients with SSD had significantly decreased scores of facial emotion for fear faces, disgust faces, and neutral faces compared with age- and sex-matched HC (t=-2.88, P=0.005; t=-2.86, P=0.005; and t=-2.56, P=0.009, respectively). After eliminating the effects of alexithymia and depressive and anxious states, the groups were found to be similar in terms of their responses to facial emotion and mean reaction time to facial emotions. Discussion: Although there have been limited numbers of studies that have examined the recognition of facial emotion in patients with somatoform disorders, our study is the first to investigate facial recognition in patients with SSD diagnosed according to the DSM-5 criteria. Recognition of facial emotion was found to be disturbed in patients with SSD. However, our findings suggest that disturbances in facial recognition were significantly associated with alexithymia and the status of depression and anxiety, which is consistent with the previous studies. Further studies are needed to highlight the associations between facial emotion recognition and SSD.